Big ideas out

of the blue
Imagine waking up and finding the Gulf of Mexico gone. What jobs would disappear with it? Fisheries, shipbuilding, port operations and shipping and the inland industries dependent upon them, gone. Tourism, defense, offshore energy, and refinery jobs, all gone.
The new blue economy represents the overall contribution of the oceans to our standard of living and a growth opportunity to create a more resilient, sustainable, and inclusive knowledge-based economy.
The Organization for Economic Cooperation and Development (OECD) has projected that by 2030 the global blue economy will generate $3 trillion in revenue. To best capture that vast potential, the Gulf Blue Initiative unlocks the talent of the community, aligns the regions innovation and research capabilities, and promotes entrepreneurship to grow our region's new blue economy.
According to a report by the Organization for Economic Co-operation and Development (OECD), many ocean-based industries have the potential to outperform the growth of the global economy as a whole, both in terms of value added and employment. The OECD projects that, by 2030, the ocean economy could reach over $3 trillion and employ approximately 40 million full-time equivalent jobs. The fastest growth in jobs is expected to occur in offshore wind energy, marine aquaculture, fish processing, and port activities.
Big Ideas of the Blue Economy
02
Marine-Friendly Plastics
03
Ocean and Coastal Data Analytics
06
Uncrewed Maritime Systems
Did you know the Mississippi Gulf Coast has the largest concentration of oceanographers in the world? With a history of defense, offshore energy, advanced shipbuilding, and the only global network of weather buoys, the Gulf Coast has vast expertise and resources to offer startups, growth-stage companies, and research ventures. The Gulf Blue Initiative pools the knowledge of research scientists, federal agencies, industry partners, and entrepreneurs to further develop the competitive advantages of our region to be a global leader in blue technology. Our history, geography, and maritime resources position the Gulf Coast to lead the development of world-changing innovation that will emerge out of the blue in Mississippi.
For decades, the University of Southern Mississippi has been strategically investing in coast-wide maritime infrastructure that positions Coastal Mississippi to advance technology in an initial set of six blue tech innovation sectors. These sectors are uncrewed maritime systems, aquaculture, marine-friendly plastics, ocean & coastal data analytics, smart ports, and sea-space systems. Today, the USM lead Gulf Blue Initiative is charting the path forward by leading the region to the next chapter of growth focused on discoveries, advanced innovations, and new practices for blue economy commerce.
Today, USM is charting the path forward by leading the region to the next chapter of growth focused on:
Innovations that support the region's ability to prevent, withstand, and quickly recover.
Innovations that preserve jobs and resources for long term growth and prosperity of the region.
Innovations that create greater diversity, equity and accessibility to the benefit of the blue economy.
The Gulf Blue Navigator program leverages the Mississippi Gulf Coast's position as an innovation gateway to support late-stage startups, shorten their development timeline, and accelerate their time to revenue. Participating companies will gain market access while engaging with university, industry, state, and federal partners and potential customers.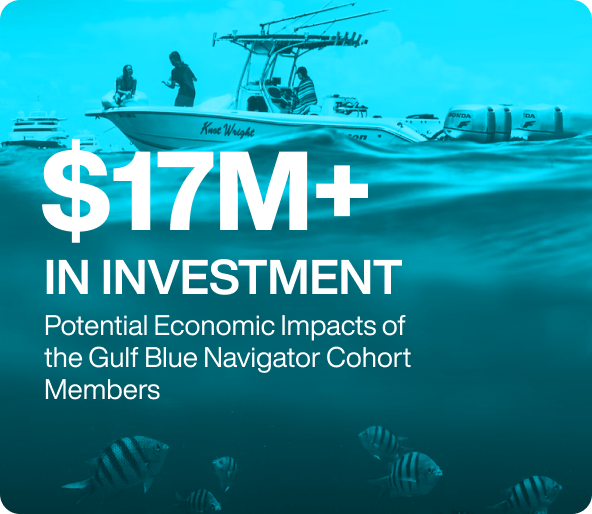 Co-Working Space at the Gulf & Ship Island Building
The Gulf & Ship Island Building is a collaborative workspace for blue tech innovation located in the Gulfport Blue Economy Innovation District. Entrepreneurs and startups developing solutions to global challenges come here to capitalize on existing, world-class ocean research capabilities and connect to research scientists, prototyping, fabrication, laboratories, evaluation services and proximity to the Port of Gulfport, rail, interstates, and the Gulfport-Biloxi International Airport.
Life in the Gulf & Ship Island Building also includes proximity to small businesses and industry and an extensive mentor network as well as local, state, and federal partners—all within steps of the Gulf of Mexico, which includes year-round shallow- and deep-water testing. If you are working in the blue economy, you will not find another location with greater access to resources or a higher quality of life. To learn more about co-working space, download our brochure.
Our new website is currently under development. Bookmark this page and check back soon! If you would like to learn more about the Gulf Blue initiative or the Gulf Blue Navigator, please contactinfo@gulfblue.com.
Support Gulf Blue
Exciting things are happening with the Gulf Blue Initiative. Join us in support of smart new companies, a technical workforce, and Mississippi's blue economy.
Subscribe to our newsletter
Gulf & Ship Island Building
2605 13th Street
Gulfport, MS 39501
228-896-2824
info@GulfBlue.org